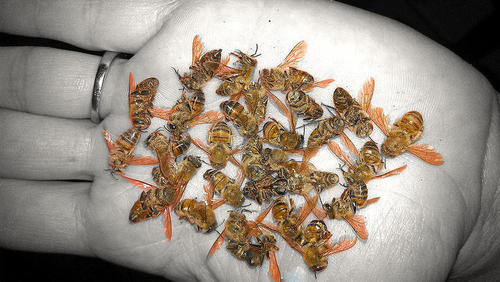 Sum of Us.org:  Bees are dying off around the world in record numbers — but big retailers are still selling the poison that is killing them.
Last season, 37 million bees (!) died on a single North American farm. Scientists now know why – study after study shows that deadly pesticides called "neonics", manufactured by Bayer, are killing them.
Home Depot and Lowe's are still selling the deadly pesticides, but pressure is mounting. If one of the stores commits to stop carrying the pesticides, it could start a snowball effect that sees rival stores drop the bee-killing chemicals too.
In a few weeks, SumOfUs' activist beekeepers will travel to deliver our petition to one of the corporations' home turf. Can you add your name now, so the retailers see the tide of public opinion and commit to stop selling bee-killing pesticides?
Tell Home Depot and Lowe's to stop selling bee-killing pesticides.
Earlier this year, SumOfUs supporters called these retail giants to ask them to stop selling neonics. Now, we've learned that Home Depot could be on the cusp of doing the right thing and taking the bee-killing chemicals off its shelves. We need to send a message to tip Home Depot over the edge, and pressure its rival Lowe's to act as well.
History shows that consumer pressure on retailers works. Europe's partial ban on neonics was caused by a huge movement that pushed some of the biggest retailers in the EU to voluntarily remove neonics from their shelves. If we can make sure that Home Depot and Lowe's drop neonics, smaller North American retailers are bound to follow. But there is not a moment to lose. Please take action now to keep the pressure on Home Depot and Lowe's so we can protect our bees and our planet's future
Call on Home Depot and Lowe's to get rid of the bee-killing neonics.
**********
More information:
CNBC: Bee activists swarm Home Depot and Lowe's, 14 February 2014
Mother Jones: 3 New Studies Link Bee Decline to Bayer Pesticide, 29 March, 2013
Photo credit: Benny Kennedy
See on action.sumofus.org