GR:  This is a good example of the unintended harm caused by human efforts to improve nature for human benefit.  Accidental and intentional introductions of plants and animals from one continent to another releases the plants and animals from their native predators and diseases. If they multiply, they can replace whole ecosystems and cause drastic reductions in biodiversity and productivity. After the immediate effects of habitat loss to construction, human-introduced invasive species are the most significant contemporary destructor of nature. As global warming effects grow, surviving humans will probably share the Earth with these species.
"Tricked out in Halloween orange and black, a harlequin moves awkwardly through a micro woodland of moss on the concrete as if it were wandering through an alien world, which in some respects it is. This is Harmonia axyridis succinea, a beetle that began its global travels somewhere in eastern Asia between Kazakhstan and Japan.
"Because its larva has an insatiable appetite for aphids and other small insects it was taken to America in the 1980s for the biological control of crop pests. It was so successful that it has been transported into European agriculture, too. To show its appreciation the beetle, called the Halloween ladybug in the US and the harlequin ladybird in Europe, has had a population explosion.
"This is such a common story of what happens when commerce controls nature for its own ends that it comes as no surprise that a creature pressed into servitude causes fear on liberation. It arrived here in 2004 and in 10 years spread throughout an area that took grey squirrels a century to colonise.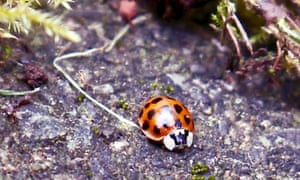 Harlequin ladybirds declared UK's fastest invading species
"Described as a "voracious invader" with a frightening appetite for other ladybirds and the eggs of butterflies and moths, the harlequin causes understandable alarm, given the threat it poses to Britain's beleaguered wildlife. By the time the harlequin arrived here it was far too late to do anything about it." –Paul Evans (The harlequin ladybird is a clever little devil).