Trapping, hunting, livestock grazing, logging, mining, and more are the ways that public land is used. Not for the sake of the land or its creatures, but for the benefit of one species. And not even in the best interests of that species, land use of the public land has never been sustainable; it has always been destructive. Our schools do not tell our children about nature, and our leaders whose "beliefs" are determined by the finances of special interests deny it. A century and a half ago, Humboldt, Thoreau, Marsh, and others recognized and alerted us to the demise of nature in the name of progress and profit. Blocked by our leaders, the message has been repeated by Leopold, Abbey, Wilson and others whose wisdom is no match for human avarice and impatience.
Exposing the Big Game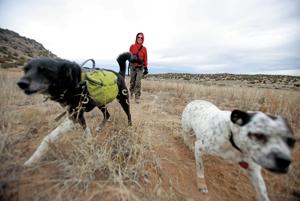 http://www.santafenewmexican.com/life/features/activist-calls-for-removal-of-leg-hold-traps-on-public/article_244c1088-fc31-5ad1-bf6b-b06f9cbbc585.html#.Vm2qoPjl6N4.facebook
Z Jacobson of Santa Fe walks Friday with her dogsNoodles on Dead Dog Trail off Old Buckman Road, where Noodles got caught in a trap. The experience has turned Jacobson into an activist, with a goal of banning leg-hold traps on public lands. Luis Sánchez Saturno/The New Mexican
Posted: Saturday, December 12, 2015 
Z Jacobson was hiking with her dogs, Noodles and Lulu, and a friend along a new trail off Old Buckman Road in the Santa Fe National Forest on Thanksgiving Day.
It's ominously called Dead Dog Trail, and it leads to the top of the Caja del Rio Plateau. Jacobson's friend had helped build it, and she was interested in touring a couple of canyons along the way said to contain rock art.
During the hike, they walked over to a cliff and were admiring the view when…
View original post 907 more words